Professional Massage Gun
Eliminate muscle pain and feel great with our Professional Percussion Massage Gun. 
Helps relieve muscle spasms and stiffness which enhances athletic performance and stimulation for a deep tissue rapid recovery.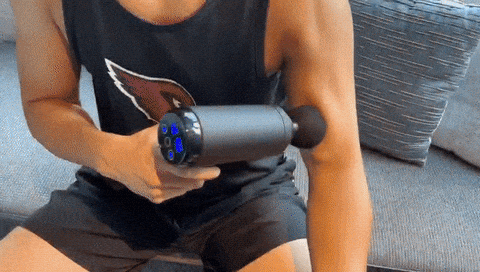 Features :
【GO DEEP & HIGH QUALITY MOTOR】This massager gun adopts high-quality brushless motor, which has ultra-strong heat dissipation function, no crash. It can provide you depth massage. It also comes with a carrying case and you can take it to anywhere for muscle release. This massage gun that helps relieve muscle aches, soreness and stiffness, promote blood flow and relieve lactic acid and helps accelerate warm up and recovery.This professional handheld massage gun helps restore the body faster.
【30 INTENSITY MODES & 6 MASSAGE HEADS】The massager gun have 30 adjustable vibration mode. You can adjust the frequency according to the different parts of the massage.Percussion massage guns provide 6 custom massage heads are ideal for massaging muscles, waist, back, buttocks, thighs , calves and other large muscle groups.The powerful multi-frequency vibration design effectively relieves muscle stiffness and soreness, promotes blood circulation, and improves the soft tissue health of the body.
【LARGE CAPACITY BATTERY & ULTRA-QUEIT】Equipped with 2500mAH high-quality rechargeable lithium-ion battery, it can keep working up to 6 hours after per charge. The high-precision mould connected the machine head and the body tightly, with unique quiet glide technology and 24V rushless high-torque motorthe noise in the process of running can be effectively reduced, is about 35-50db.Very quiet.
【ERGONOMIC DESIGN】Ergonomic designed grip minimizes external vibrations and the durable anti-slip silicone grip makes the massager easier and comfortable to hold for your enjoyment. 2500mAh high-quality rechargeable lithium battery, ensures a 6 hours working time. The body massager has an LED battery indicator so you don't have to worry about power outages.
【EXCELLENT SERVICE】Our massage guns have passed strict inspections and meet various export standards. 
Easy To Use : 
Step 1:
Select and install your preferred massage head.
Step 2:
Turn on the power switch at the bottom of the massage gun's handle, and then the LED screen will light up.
Step 3:
Touch the start button and the massage gun starts to run.
Step 4:
Press + and - buttons to adjust massage gun's speed.
Round Head: Used for hand, back, buttock, leg massage.
Taper Head: Used for deep tissue, such as joint, palm and plantar.
Flat Head:Used for relaxing and shaping each muscle part
"U" Shape Head:Used for neck,spinal and Achilles message
Thumb Head:Used for massage soft tissue
Spade Shaped Head:Used for whole body bones muscle relaxation
 Specification
-Color: Carbon Fiber / Black 
-Type: LCD Version
-Stroke: 12 mm
-Frequency: 4800 r/min(maximum)
-Rated Input: AC 110~240V 50/60Hz
-Endurancing Time: 6-8 Hours
-Number Of Massage Heads: 6
-Battery Capacity: 2500 mAh
-Speed Regulation: 30 Gear Control
-Battery Rated Voltage: DC 16.8V

Package List :
1 * Massage Gun
6 * Massage Head
1 * Power Charger
1 * Packing Handheld
1 * Instructions For Use
USA Shipping Only : 
Please give  5-8 working days for delivery