DIY Glass Bottle Cutter Tool
PRODUCT DETAILS
Turn old bottles and jars into functional pieces of artwork with our glass bottle cutting tool. Amazing art pieces like vases, glasswares, different kind of holders, ashtrays, lamps & aquariums, etc are created using this tool. A great gift for DIY creative personalities. 

Features
ADJUSTABLE LENGTH and WIDTH - Adjustable hole design provides you cut both from the top or the bottom of the glass bottles and mason jars. Suitable with All beer/wine/drinking glass round bottles. 

CUTS YOUR OWN STYLE BOTTLES - Direction adjustable blade can make your own style bottles. The powerful blades score the bottle well for smooth edges. 

STABILITY and DURABLE - Increase friction make it more stability. Made of high-quality metal, light weight but also handy and sturdy. Easy to keep and clean. 

EASY TO USE - Just place your bottle on the cutter, Rotate the bottle constant moderate pressure, heat the score over boiled water and cold water alternately bathe three times. 

ECONOMY and ENVIRONMENT - By your creative recycle ideas and handmade practice, decorate your exclusive beautiful life and help you do your bit for the environment protection. Recycle Your Glass Bottles create your own artwork.Each octopus arm has numerous small suckers helping make the arms stand out effectively. 

 
How To Use IT ? 
The tool is so simple to use that anyone can have fun with it! Just take an old wine bottle, put it on the holder, apply pressure, and rotate. Give the bottle subsequent baths of cold and warm water and you got yourself a perfect cut bottle with a smooth edge!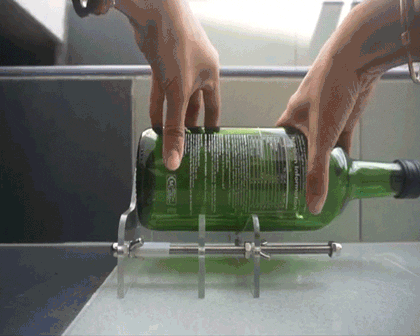 specification 
Color: Transparent / Black / Blue / Red
Cutting Length: 20mm-320mm(0.8in-12.6in)
Cutting Diameter: 20mm-230mm(0.8in-12.6in)
Cutter Size: 20cmX15cmX7.3cm(7.8inX5.9inX2.9in)
SHIPPING wORLDWIDE
Please allow 12-30 days for delivery