Double Color Eyeshadow Stick
PRODUCT DETAILS
🌟 BE GLAM 🌟 BE GLAMOROUS 🌟 
Double Color Eyeshadow Stick create beautiful eyeshadow look. The glitter effect will give you a three-dimensional makeup after applying it, making your eyes sexy and charming.you can keep it for a long time without taking off your makeup. Even if you sweat, you can maintain long-lasting beautiful eye makeup.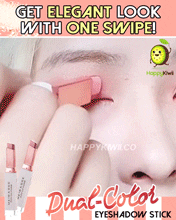 🌟 Create elegantly glittery, gradient colored eyeshadows in a second with perfect dual-color eyeshadow stick!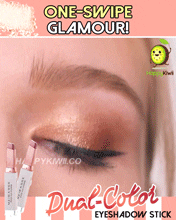 🌟 Simply swipe once to create dual colored eyeshadow without professional technique. No fussy layering and blending!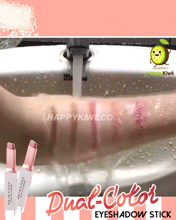 🌟 This eyeshadow is highly pigmented with exquisite glitters and smooth texture.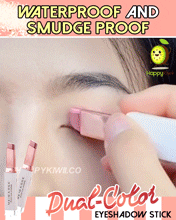 🌟 Buildable colors - You can increase intensity by brushing repeatedly. One swipe for daily/ casual make-up, and more swipes for party & sexy makeup!
FEATURES
ONE-SWIPE DESIGN - Perfect for beginner. Include dual colors for instant gradient shading.Easy to create gorgeous, smooth gradient colors for a delicated, natural eye makeup. No fussy layering and blending. 

ELEGANT & SHIMMERY- Highly pigmented colors with exquisite glitters and smooth texture. 

LONG-LASTING - Lasts up to 15 hours with proper makeup preparation.Waterproof & Sweat proof. 

EASY TO APPLY & REMOVE - Shorten your makeup routine as you only swipe once to complete your eye makeup. Use makeup remover to remove it easily without leaving any glitter/ residue. 

SAVES TIME & EFFORT - Carry with you conveniently for makeup retouch everywhere.Suitable for both daily make-up and professional makeup.Swiping it to your eyes will only take 2 seconds.
PRODUCT SPECIFICATION
Net Weight: 3.8g


Style: #01 Romantic ; #02 Elegant ; #03 Fantasy ; #4 Smoky ; #05 Energetic ; #06 Tender

PACKAGE INCLUDES

1 X Dual-Color Eyeshadow Stick
SHIPPING WORLDWIDE
Please allow 12-30 days for delivery