Refillable Perfume Spray Atomizer
PRODUCT DETAILS
Carry your favorite perfume anywhere by using our refillable perfume spray  atomizer.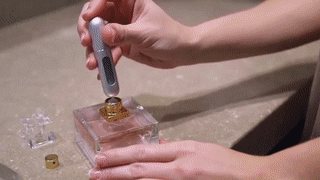 REFILLABLE – Innovated design with a valve on the bottom of atomizer, different with the common atomizer, it's easy to refill, insert the nozzle of your perfume bottle into valve at the base of atomizer. Pump up and down firmly until full, but Do not over fill.
GREAT USAGE - Our refillable perfume & cologne fine mist atomizers are the perfect solution for traveling with your favorite fragrances, essential oils and aftershaves. Take them with you to a party, on vacation, leave one in your car, out to dinner with friends, the gym or anywhere else you need to look and smell your best. Sprays a fine mist for even coverage. Makes a great gift idea for your friends.

PREMIUM QUALITY - The shell of atomizer is made of high quality aluminum and the inside of durable glass, so you don't need to worry it will be broken when drop onto the floor, it's durable. NO LEAKING!!

CAPACITY - 5ml. There are more than 70 sprays. Clear Vial Inside to easily see how much perfume remains.

TRAVEL SIZE - The size is only 3.15 x 0.63 x 0.63 inches, the volume is 5ml, there are more than 70 sprays. Lightweight and durable aluminum material makes it ideal for placing in your handbag or pocket.
special tip
Please don't fill this bottle fully, since there is an air-hole on the sprayer,if too full, it can be leaked from the air-hole.
note
The items are just empty Perfume Bottles, without Perfume in the bottle. 

Please press few times to let the air out before put the perfume. 

Put the perfume into the bottle through the bottom hole.
SHIPPING wORLDWIDE
Please allow 12-30 days for delivery