Run On The Drawn Line Pig Toy
PRODUCT DETAILS
Run on the drawn line pig is the best gift for children. Your kids will be amazed and excited that the pig moves along the black drawn lines. It will improve creativity and imagination while enjoying the fun by playing the toy.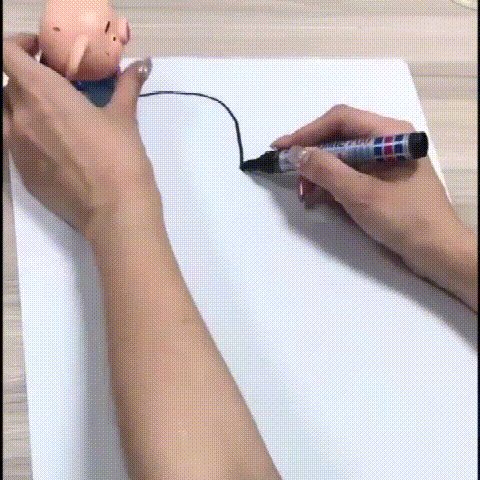 Features
EASY START: Bring children endless fun time spend with friends and parents. Moreover, not only for play, but also can be placed at home as the decorations and collection. It helps improve children's ability of color recognization, hands-on ability. 

WIDE APPLICATIONS: People bought it for kids' science project, physics/mechanics learning, demonstration on class, etc. 

A GREAT GIFT: It's a well-designed and crafted mechanical toy, fantastic gift for people you love. 

MOST CLASSICAL DESIGN: with elegant design and fine workmanship, this is a beautiful piece of art. 

SAFE FOR KIDS: Complies with the applicable regulations and standards under CPSIA and any other acts enforced by CPSC, passed Toxic Elements Test/Flammability.
How To Play
Use a black marker pen to draw a line on a white piece of paper.

Turn on switch at the bottom of the pig 

Place the pig on the drawn line, it will run along the line automatically 

Turn off the switch at the bottom of the pig when you don't want to play 
Specifications
With an optical sensor, can automatically run following the line drawn. They will improve creativity and imagination while enjoying the fun by playing the toys.
Material: Eco-friendly ABS, Electronic Components
Charging Time: 30mins
Size: 8cm/3.15" x 8.5cm/3.35" (Approx.)
SHIPPING wORLDWIDE
Please allow 12-30 days for delivery