Silicone Padded Forefoot Insoles
PRODUCT DETAILS
The Silicone Padded Forefoot Insoles provides your feet With non-stop comfort! Protect your feet from the uncomfortable with this amazingly comfortable Silicone Gel Insoles! Walking in new shoes has never been so easy. These insoles are efficient to relieve metatarsalgia, morton neuroma, plantar fasciitis, blisters, calluses, burning sensations, foot pain and provide support when wear uncomfortable shoes!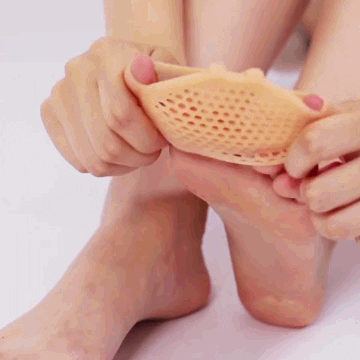 Features
Enhanced Breathability - Honeycomb soft gel foot pads allows your feet to vent so you stay dry all day. Can easily be worn under socks and with any shoes. Soft silicone pads mold to the shape of your foot and can be worn throughout the day and night for 24 hour relief.
Preventive - With individually designed slots for each toe, the gel insole protects toes from rubbing together, which can be painful are cause calluses or hard, unwanted skin. 
Protective - Protects feet against uncomfortable and hard to wear shoes like new or high heel shoes, for you to roam with the utmost of ease. 
Ergonomic - Silicone insoles are designed to shape the forefoot and are soft to the touch. The gel material acts as a cushion for your foot. 
Anti-Slip - Don't worry about the insole moving around in your shoe as the material is anti-slip for maximum comfort and suitability.
Flexible - The lightweight insole is highly flexible and stretches which allows it to fit most foot sizes. 
Versatile Use - Metatarsal gel pads can be used inside socks, high heel, tennis shoes, boots and all kinds of daily footwear for versatile use
Safe and Reusable - Ball of foot cushions made from medical Grade Silicone Gel, our metatarsal foot pads do not absorb odor and dirt, can be reused and washed.
Light Feet Cushions - One size fits all! Men's and women's forefoot pads were helps equally distribute pressure in feet, eliminate pressure points. You'll feel lighter and spread that pressure out and ease your pain.
Specification 
Color: White, Skin, Black

Size: One Size/ 8.5 x 6.5cm 

Weight: 0.05kg 

Material: Silicone Gel.
package Includes 
1 x Silicone Padded Forefoot Insoles (1 Pair)

 
SHIPPING wORLDWIDE
Please allow 12-30 days for delivery