Wavy Ponytail Hair Extension
PRODUCT DETAILS
Wavy Ponytail Hair Extension is a one-minute extension to make your hair FULLER, LONGER in fashionable hairstyle.
Just wrap to instantly adds volume and length to your hair. Wrap around your ponytail with the hair extension strap to make it seamlessly blend with your hair, appearing as a fashionable wrap ponytail style.
Gives Your Hair Pump Up.
Got your hair cut too short and you want to cure the awkward moment? It's great to use the natural-looking Wavy Ponytail Extension.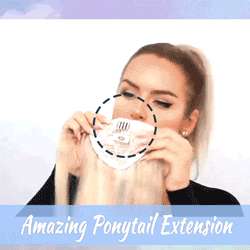 The Wavy Ponytail Extension is made of synthetic hairs that have different colors to choose from for you to match your natural hair. Its creative design that has wrap-around curly hair lets you coverup any trace that you wear any clip-on!
FEATURES:
Instant Hair Volume:
Adds thickness and body to your natural hair, enhancing your ponytail hair volume instantly. 
Seamless Extension:
Extension looks natural as it blends with your natural hair.
Wrap Around Design:
Has a wrap around created to coverup extension application for a more natural look.
Velcro Fastener and Comb:
Fasten your extensions sturdily with the help of handy velcro and small hidden comb.
Easy To Maintain:
Wash with shampoo and warm water, air dry, and comb to keep them untangled. 
SPECIFICATIONS: 
Materials: Synthetic Hair
Colour:  24 options
Streched Length: 22 inches / 56cm
PACKAGE INCLUDES:
1x Wavy Ponytail Extension
SHIPPING
Please allow 12-30 days for delivery