Halo Hair Extensions
How To Order ??
Simply buy the the product as per the color choice. For Desired Stretched Length choice
The available size length are : 
1

4inches

16inches
18inches
22inches
Kindly reply with your required size length to our purchase confirmation or email us  at stiylom@gmail.com
Incase if you send us your desired stretched length option  within 3 days from ordering we will send you you 22 inch option
32 Color Options Availaible
Click on the below image to select desired color hair hair extension 👇👇
| | |
| --- | --- |
|  SHADES OF BLACK | |
| | |
| | |
| | |
| SHADES OF BROWN  | |
| | |
| |   |
| | |
|   | |
| | |
| | |
| | |
| | |
| | |
| | |
| SHADES OF BLONDE | |
| | |
| |   |
| | |
| | |
| | |
| | |
| | |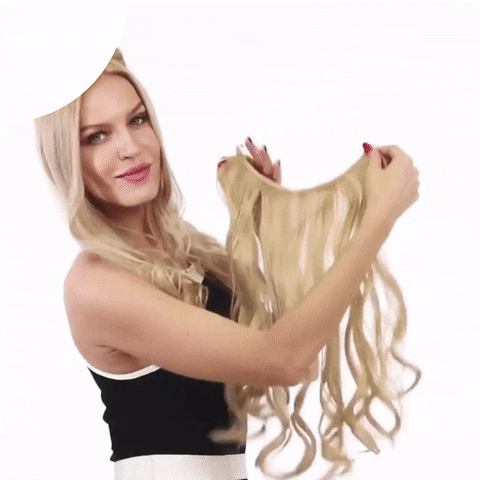 Halo hair extension offers  innovative hair extension that adds length and volume to your own hair in less than one minute!!
No need to go to the salon and pay for expensive clip-in extensions anymore. 💸  With our Halo Extensions, you will have Perfect Hair in 2 minutes at home😍   
j
 Meet our Halo Hair Extensions, they are simple, easy and quick to install. They use an adjustable wire that creates a comfortable and secure fit. 
No clips, no glue, and no damage, those temporary extensions are the answer to all your hair problems!
This is also a safe way to add volume while you wait for your hair loss to stabilize.
Simply cover your natural hair with the extensions and secure them to your head with a wire. This is the only type of hair extensions that doesn't physically attach to your hair; instead, it sits over the top.
How to apply my Halo Hair Extensions? 
Features  
✅ Fuller, longer, hair in seconds
Dream hair just got real; get it every day of the week with our Halo Hair Extensions.
✅ Effortless and low maintenance
Easy to use, manage, and upkeep; our halo extensions don't demand much, just a head that's halo ready.
✅ Zero damage to your own hair
Get the hair you've always wanted but never knew you could, without damaging your real hair, your morning routine, or your wallet.
✅ Turn heads everywhere
Be the talk of the party, with hair that looks like you came straight out of the beauty salon - every day. Stop wasting your money on overpriced hair extensions when you can rock that same glamorous look for a fraction of the price with our hair extensions. 
 Frequently Asked Questions 
Does the hair shine ?
no ,it has a very natural shine which does not look like synthetic hair ,it looks like human hair
Can be dye  ?
no ,can not dye ,because this is synthetic material
Can be ironed ?
yes ,because the material is heat-friendly fiber ,so can ironed it at150-180 degree or 300-350 Fahrenheit
How to restyle by iron ?
Unlike  your own hair ,synthetic fiber only sets after it cools,so keep the curl until it is cool ,then release !
How to choose color ?
Please check your hair color outdoor or under bright lighting to compare to product colors .Our colors are multi-faceted and will work with various shades, black ,brown ,ash, golden or beige. Go a shade darker for a highlighted effect or a shade lighter for an ombre look. or contact us for helping to choose color
How to detangle ?
(1)Spray water or wig conditioner & detangler to prevent getting tangled
(2)Detangle the hair using a wide tooth comb carefully .Start from ends and work toward the root to decrease shedding
(3)Use straightener or soak in boiling water to smoothen frizzy ends
(4)Coat with hair gel and firm hold hair spray to prevent tangles ormake a bun or braid to avoid the static between synthetic with clothes if wearing all the day
note: contact us for more information if necessry
How to DIY for wig conditioner?
(1) Put hair conditioner or fabric softener in your squirt bottle
(2) Fill up the bottle with pure water (hair conditioner :water =1:5)
(3) Shake and done!
How to wash ?
(1)What you will need ?towel,shampoo & conditioner,wig conditioner,wide tooth comb
(2)To prevent shedding ,comb hair starting from the ends
(3)Add 1 tablespoon of shampoo to cold water ,soak for 5 minutes
(4)Rinse the wig gently in cold clear water twice or until thoroughly rinsed
(5)Add some conditioner to immerse the wig about 10 mintues,then clear water
(6)Blot the wig gently with a towel ,do not squeeze,twist,brush or comb while wet
(7)Allow the wig to air dry ,do not use a hair dryer
(8)Gently comb the hair from the end of the wig with wide-tooth comb
(9)Spray lightly with the wig conditioner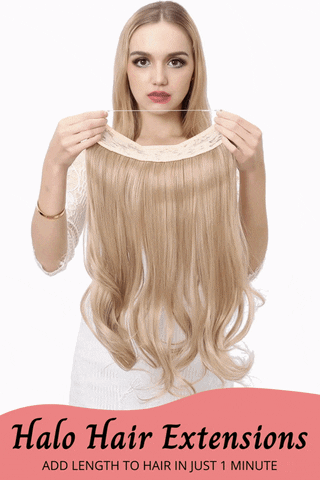 Specification
Material: Synthetic Hair Extensions With High Temperature Resistant 
Fiber Length::

14inches / 16inches / 18inches / 22inches

32 color options
SHIPPING
Please allow 12-30 days for delivery